We do repairs on almost anything made from precious metals (sterling silver, gold, platinum, palladium) and even some other materials. Each repair is unique, and the quotation as well as potential options or pitfalls will be discussed with each individual customer when the item is taken in.
If you would like to sell old gold jewellery, click here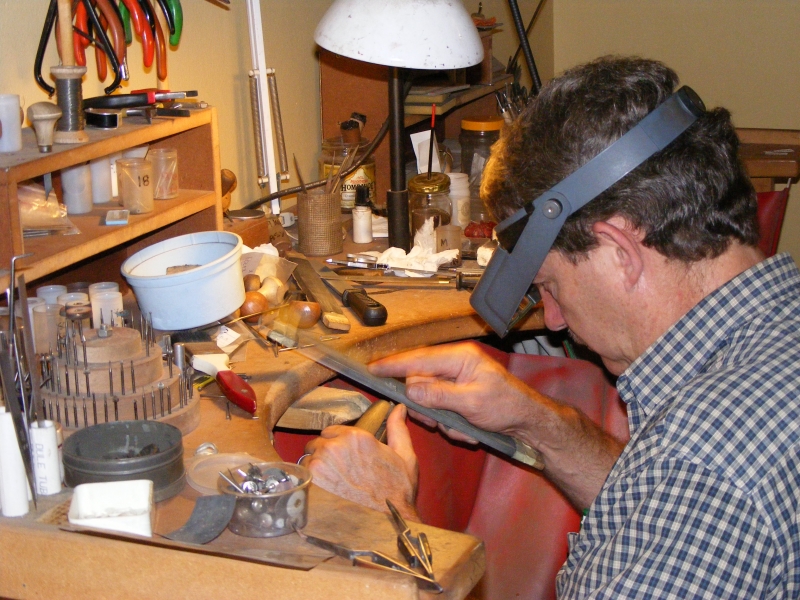 Repairs we do include the following:
Soldering Bands Together
Resizing Rings
Shank Replacements
Claw, Collet & Tube Replacements
Re-Tip Claws / Rebuild Tubes
Soldering of broken Earring Pins
Chain Repairs
O-Ring and Clasp replacements
Soldering Charms
Soldering Bangles
Resize Bangles
V-Loop & Bale Repairs
V-Loop & Bale Replacements
Polishing & Reconditioning
Stone Setting Check
Set work
Valuation
Engraving
Scrolling
Rhodium Plating
How does it work?
Easy:
♦ Make an appointment for a time that suits you
♦ Bring your broken stuff and old jewellery (if you have any you'd like to use or sell). We could give you cash or credit, whichever you prefer.
♦ Come have coffee with us and tell us what you want. We will make some sketches and discuss the repair or alteration with you.
♦ You may leave your jewellery with us or bring it back upon acceptance of the quote, whichever suits you.
♦ You will receive your quote either immediately (for repairs) or by phone or email (for alterations) within the next day or two (depending on how fast our suppliers reply if you have any uncommon requests).
♦ After the repair period (which will be discussed according to the complexity of the repair), keep your phone close so that we may reach you when it is ready.
♦ At this point you may make the payment via internet transfer, or bring cash when you pick up your order.
♦ With each and every piece we work on, we are excited and look forward to delivering our craft. Seeing your joy at the presentation is part of our reward. Call us.